November 18, 2020
Alternative to Dead Bug Rework
This is an example of a project where the solution was more reliable, less labor intensive and much more elegant that the alternative... dead bugging. If you're not familiar with dead bugging it's when you need to add components to a circuit board and have no place to put them so you glue them upside-down and run jumper wires to complete the circuits. It's usually a big mess. A military contractor had an engineering change ...
Feature Story
Overlap Solder Joint Failures
Our process engineering department has recently made a change to the soldering method used to solder displays to circuit cards. The display has 18 pins on each side and is ~2mm from pin to pin. The old method is to ...
Ask the Experts
Need BGA Component Reballing or Component Tinning?
Watch a short video that shows our robotic BGA component reballing capabilities. Our high-reliability BGA Reballing service can quickly rework BGA components that require reballing. Reballing is most often required when the alloy of the BGA component solder balls needs to be changed from lead-free to leaded. Every BGA Reballing project is completed to meet IPC and JEDEC specifications.

Learn more ...
Flash Memory Card Rescue
What do you do when a flash memory SD card containing important photos of the President of the United States, breaks into pieces, leaving you holding one of the tiny microchips, and there's no backup? The answer probably won't surprise you one bit: Take a deep breath and try to remain calm. Remaining calm may not provide you with a practical benefit. It will, however, afford you ...
Feature Story
Rechargeable Zinc Batteries Allow for Lighter Robots
A new kind of rechargeable zinc battery can be integrated into the body of a robot providing far more energy than traditional lithium-ion batteries ...
Technology Briefing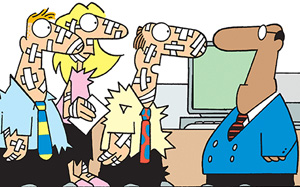 "Frankly sir, we're tired of being on the cutting edge of technology."


Copyright © Randy Glasbergen
Trivia
Who invented the mercury thermometer?


See the answer below.
Quote of the Week
"Well done is better than well said."
Benjamin Franklin