October 23, 2019
BGA Conductor Path Re-design
This re-design centered around a 676 ball BGA component. A total of 23 of the balls on the BGA were not connected where they needed to be. The only viable solution involved re-routing. That's a significant re-design under any circumstances. It would have been easier if the pads that required re-routing were on the perimeter of the BGA layout, but such was not the case. The newly routed pads had to extend from the center of the component to outside of the package footprint so ...
Feature Story
Exposed Copper Risk
We received PCB's where a modification was completed involving soldering a chip cap to a surface ground layer. The modification exposed copper. This PCB is used in an outside environment. Should we be concerned with corrosion? What should ...
Ask the Experts
Need BGA Component Reballing?
Watch a short video that shows our robotic BGA component reballing capabilities. Our high-reliability BGA Reballing service can quickly rework BGA components that require reballing. Reballing is most often required when the alloy of the BGA component solder balls needs to be changed from lead-free to leaded. Every BGA Reballing project is completed to meet IPC and JEDEC specifications.

Learn more ...
How to Fix Press-in Fastener Damage
Press-in fasteners are a simple, yet very important element of printed circuit assembly. When inserted properly, and in the correct location, press-in fasteners provide an elegant solution to various chassis, heat sink, stiffener, and other hardware mounting demands. The potential problem with press-in fasteners is in the nature of their mounting ...
Feature Story
Flying Cars Surge Forward
After decades of failed projects, a new class of vehicles is finally emerging that could transform the way people and cargo are moved within and between cities ...
Technology Briefing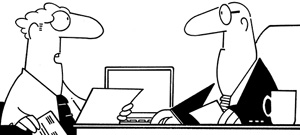 "You said I lack critical leadership skills, but I'm being as critical as I can!"


Copyright © Randy Glasbergen
Trivia
How heavy was the empty Wright Flier, the Wright Brothers original airplane? 305, 505, or 605 pounds.


See the answer below.
Quote of the Week
"Success seems to be largely a matter of hanging on after others have let go".
William Feather