September 18, 2019
Tips and Tricks for Successful Rework
Although soldering is one of the oldest know joining techniques, manual or hand soldering is still a process highly dependent upon individual operator skill. And, while soldering and rework have become increasingly automated, we nevertheless operate in an imperfect world, and defects in the mass soldering process will occur. Thus, the importance of using techniques that provide high-quality results, while exposing the solder connection to the least stress, continues to ...
Feature Story
BGA reballing question
We have requirements to have BGA components reballed. They are supplied with SAC305 solder and will be reballed using tin-lead solder. Is a single wave stripping process acceptable, or should the reball service supplier run the BGA components through a second pure tin-lead wave to ensure ...
Ask the Experts
[an error occurred while processing this directive]
The Micro-Drill - A Repair Technician's Dream
This versatile powerhouse is ideal for milling, drilling, grinding, cutting and sanding. With great precision you can use it to remove coatings, cut circuits, cut leads, drill holes and perform many other delicate operations using various interchangeable bits. The high-speed DC motor is in the hand piece to keep the hand piece lightweight and easy to control.

SPECIAL OFFER - Order a Micro-Drill System by October 30, 2019 and Save $80.00.

Regular Price $479 - Special Offer Price $399.
Edge Milling to Reduce Board Thickness
It's not unusual for circuit boards that have been fabricated to require additional milling to reduce that thickness in certain areas. This milling is nominally completed by the circuit board fabricator prior to board assembly. Usually, this milling is done to allow the installation of face-plates, bezels, or the insertion of the circuit board into a card slot without restriction. Occasionally, the milling operation is either missed, or not milled to the desired thickness. We have often been asked to perform the milling operation on assembled ...
Feature Story
Next-generation Anti-icing Materials
New research describes for the first time several unique properties of materials known as phase-switching liquids, that hold promise as next-generation anti-icing materials. Researchers say these phase-switching liquids can delay ice and frost formation up to 300 times longer than state-of-the-art coatings being developed ...
Technology Briefing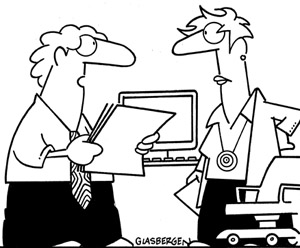 "And when you're done thinking outside of the box, remember to put the box in the proper recycling bin!"


Copyright © Randy Glasbergen
Trivia
Which planet did not lend its name to an element in The Periodic Table?


See the answer below.
Quote of the Week
"Old age is like a plane flying through a storm. Once you are aboard there is nothing you can do."
Golda Meir