July 15, 2019
Rework Option Eliminates Jumper Wires
A customer identified a design error involving two component patterns on the secondary side of a circuit board. Two circuits were incorrectly routed. Although many of the boards were completely assembled, a large percentage of circuit boards were partially assembled leaving the effected site vacant. Two rework methods were proposed. For those boards that were completely assembled, the most efficient method was to remove the component, a 14 pin gull wing device and make a series of 4 circuit cuts. Following the circuit cuts, the 14 pin ...
Feature Story
Options for Reballing BGA Components
Which of the following do you recommend when reballing BGA components? Reballing with solder paste and solder spheres, or with solder spheres only? Would you change the process depending on the size of the BGA component or number ...
Ask the Experts
Repair Circuit Board Damage Fast, Neat and Permanent
The Circuit Bond Kit contains 10 packages of clear, low viscosity, superior strength adhesive, precisely measured in two-compartment plastic packages. They are easy to use and there is no measuring. Once cured, this adhesive makes an excellent electrical insulator with good high temperature, mechanical and impact resistance properties.

Circuit Bond can be used to repair scratches and burns in circuit board base materials and repair damaged solder mask. The kit also contains mixing sticks, mixing cups and foam swabs.

LEARN MORE ...
Potted QFP Rework Challenge
A manufacturer of outdoor electronic billboards had hundreds of circuit board assemblies that were returned from the field. They all required the removal and replacement of a 1500 faulty 44 pin fine pitch QFP devices. Normally this would be a relatively straightforward rework project. In this case however, the boards were completely encapsulated with a 0.20" thick layer of silicone potting gel, making for a significant ...
Feature Story
Counterfeit Goods Cost Billions
Each year, counterfeit goods cost billions of dollars in economic losses. These knock-offs, typically of inferior quality, often masquerade as luxury brands. Manufacturers have tried to incorporate unique tags or bar codes to verify a product's authenticity, but counterfeiters often figure out how to copy these ...
Technology Briefing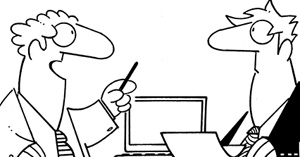 "I'm the world's greatest salesman. If you become the world's greatest customer, we could be an incredible team!"


Copyright © Randy Glasbergen
Trivia
Is pi a whole, imaginary, rational or irrational kind of number?


See the answer below.
Quote of the Week
"Getting information off the Internet is like taking a drink from a fire hydrant."
Mitchell Kapor