November 5, 2018
Reworking an Internal Connection at a Via Hole
This procedure was used to modify a batch of circuit boards that had a signal error at a via hole location. A via hole on this multilayer circuit board was mistakenly connected to layer nine when it should have been connected to layer 15. This is genuine micro-surgery, but in the hands of skilled and trained technicians, it can be done with neatly and reliably. Here is how we do it ...
Feature Story
Profiling for Double Sided BGA
We are about to produce double sided BGA boards - BGA components on both sides. What advice would you give for profiling? What advice would you give for reworking boards with BGA components on both ...
Ask The Experts
Discover A New Way To Bond Jumper Wires
Throw away that super glue. Finally a neat and fast way to bond jumper wires to circuit boards. Wire Dots replace glues and adhesives with super-sticky tape specially designed to permanently secure circuit board jumper wires.

SPECIAL OFFER - Order any size Wire Dots by November 30, 2018 and save 25%.

Regular Price $39.95/package, Special Offer price $29.95/package.
Questions to Ask When Salvaging Components
Have you heard this one before? A manager walks into a meeting and is told that there is one million dollars worth of circuit assemblies that are scrap because of ... fill in the blank. Yee Gads! How could that happen? There are a whole lot of reasons why circuit boards are scrapped, and it safe to say that none of them are ...
Feature Story
Self-Driving Vehicles: From Prototypes to Commercial Success
From real estate and jobs to insurance and law enforcement, no digital application will have more far-reaching consequences than self-driving cars and trucks. Consider just a few of the implications highlighted in prior ...
Technology Briefing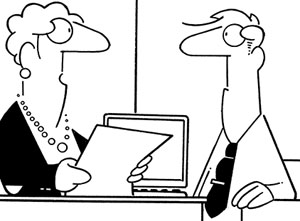 "There is always room for improvement. It's a small room with no windows or distractions. We already moved your things."


Copyright © Randy Glasbergen
Trivia
What company was the first to fit one million transistors onto a single microchip?


See the answer below.
Quote of the Week
"Problems worthy of attack prove their worth by fighting back."
Paul Erdos