NEWSLETTER: March 7, 2018
Attractive Alternative to Ugly Dead Bug Rework
This is an example of a project where the solution was more reliable, less labor intensive and much more elegant than the alternative... dead bugging. If you're not familiar with dead bugging it's when you need to add components to a circuit board and have no place to put them so you glue them upside-down and run jumper wires to complete the circuits. It's usually a big mess. A military contractor had an engineering change to implement to a batch of circuit board that involves the addition of 16 components. The original solution ...
Feature Story
Problems with Insufficient Barrel Fill
We are seeing insufficient barrel fill (60-75%) during lead free wave soldering. Can you point to some reasons why we may be seeing this insufficient condition and suggest a cure ...
Ask the Experts
Risk Mitigation in Hand Soldering
In this technical paper a new validation technology in concert with visual inspection represents a change to the status quo in hand soldering. The hardware component incorporates a system to store data at the point of use ...
Technical Library
The Most Essential Tool for Repair Techs
Microscopes are essential tools in any rework or repair department. While there have been many applications for other types of manually operated vision systems, such as illuminated magnifiers and CCTV based systems, the importance of microscopes has been driven by the ever-shrinking size of electronic ...
Feature Story
Nanowire Breakthrough Paves Way for Completely Flexible Devices
Physicists have combined silver nanowires with graphene to create new hybrid material, which matches the performance of the existing technologies at a fraction of the cost. Until now, one of the issues with using silver is that it tarnishes in air. The researchers found that the graphene layer prevents this from happening by stopping contaminants in the air from attacking the silver ...
Technology Briefing
Contributors
Andy Price, Bob LePage, Ronna LaBranche, Jose Irizarry, Ted Farnham, Bun Chhouy, Peter Vigneau, Jeff Ferry

Since 1983 Circuit Technology Center and CircuitMedic have been recognized as the world's most innovative and reliable specialists in circuit board rework and repair services and products.
Trivia Question
When was IBM incorporated?


See the answer below.
[an error occurred while processing this directive]
Quote of the Day
"We aim above the mark to hit the mark."
Ralph Waldo Emerson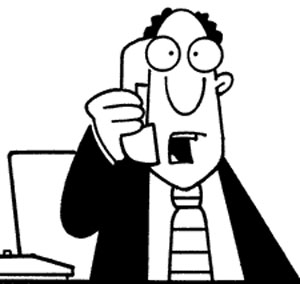 "I need help! I was thinking outside of the box and I let my mind wander too far and now I can't find my way back!"


Copyright © Randy Glasbergen
Trivia Answer
IBM was incorporated in 1911 as the Computer-Tabulating-Recording Company. The company's name was changed in 1924.