February 19, 2020
Ten Rules for Jumper Wires
The need to attach jumper wires to circuit board assemblies is inevitable. Essentially, jumper wires fall into three basic categories. Those that are considered a component and part of the original design. Those that are added after the original design and fabrication to effect a modification. And those that are added to correct a defect. In this article we'll review the 10 basic rules for attaching jumper wires, and the reasons for them ...
Feature Story
Solder Splashing During Wave Soldering
We are experiencing solder splash during wave soldering while using both adjustable and dedicated pallets resulting in the splash on the boards creating ICT failures. The solder splash is popping up from the solder flow. What is the likely reason for this ...
Ask the Experts
87 Repair/Rework Guides Online
Our online guidebook is packed with detailed illustrations and will be helpful to anyone who needs to repair or rework circuit board assemblies. Each procedure also includes a "Skill Level" providing a gauge for the requisite experience and skill needed by the operator to obtain a reliable outcome.

Learn more ...
A Solution for Broken Pin Repair
While working with an extremely expensive pin grid array style component, a customer reported that they broke off a pin at the base near the component body. Is it possible to repair damage to a component like this? Any repair would have to endure the mechanical stress of insertion, plus the thermal stress of ...
Feature Story
Educating the $7 Trillion Driverless Brain
Autonomous highway vehicles are poised to disrupt transportation of people and goods leading to an era dominated by "mobility as a service." Cities will be planned differently, as we'll need less parking and roads will be less crowded. What does it all mean ...
Technology Briefing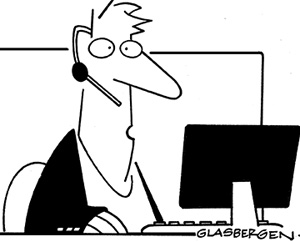 "Sometimes a computer just wants to feel appreciated. Pick up some roses and a card during your lunch break."


Copyright © Randy Glasbergen
Trivia
The means whereby the deterioration encountered in natural aging is artificially reproduced and hastened is called what?


See the answer below.
Quote of the Week
"Not everything that can be counted counts, and not everything that counts can be counted."
Albert Einstein