April 3, 2019
Converting Tin/Lead BGA Pads to Gold Plated
When engineers are developing or upgrading products the focus can often involve BGA's. We commonly receive requests to dismantle a socketed BGA and place the BGA directly on the circuit board surface. We also receive requests to migrate a soldered BGA component into a socket arrangement. The challenge with a rework that involves the removal of a soldered BGA to install a socket is that most often the pads on the circuit board surface will need to be gold plated. In this case all 1000+ pads needed to be gold ...
Feature Story
How To Rework SMT Connector with Center Ground Strip
I need to remove a SMT connector that has a ground strip down the middle. Can you give me some tips on how to remove it and put a new one on an assembled PCB ...
Ask The Experts
Eliminate Heat Damage During BGA Rework
This kit includes all the tools and materials you need to protect heat sensitive areas of an assembled circuit board from excessive heat exposure during rework operations. This kit is is ideal for the protection of adjacent components at risk of collateral heat damage during hot gas BGA rework.

LEARN MORE ...
X-Ray System Eye Opener
We recently we had the good fortune to install a second Dage X-Ray machine in our facility. For years we had been using an older machine that had been a reliable workhorse. Since we loved our old machine, we didn't immediately recognize what the Dage machines could do for us, but when we saw how it performed, well, all we can say is, "What an eye opener!" The Dage x-ray systems are one of the new breed ...
Feature Story
Why AI Isn't the Death of Jobs
When pundits talk about the impact that artificial intelligence (or AI) will have on the labor market, the outlook is usually bleak, with the loss of many jobs to machines as the dominant theme. But that's just part of the story - a probable outcome for companies that use AI only to increase efficiency. As it turns out, companies using AI to also drive innovation are more likely to increase head count than reduce it ...
Technology Briefing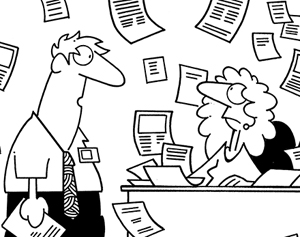 "The weather report is predicting 3 to 6 inches of paperwork."


Copyright © Randy Glasbergen
Trivia
What does "opposition of electrical current flow in a AC circuit" mean?


See the answer below.
Quote of the Week
"He that is good for making excuses is seldom good for anything else."
Benjamin Franklin