NEWSLETTER: October 2, 2018
Jumper Wire Nightmare
A routing miscommunication resulted in a significant problem. The circuit traces for connectors on the left side of a circuit board were supposed to route to the connectors on the right side. Unfortunately the opposite was true. Do to time considerations re-manufacture was not viable option. There were a few options considered. One option was to manufacture a custom adapter card that included the rewired circuit traces. The conductors could have been mounted to the adapter card and the card could ...
Feature Story
Problems Hand Soldering 24 Layer Board
We are assembling a back plane board with 24 layers. We are attempting to hand solder solder through-hole components, but are finding that the solder does not flow through to the other side of the board. Is there is a method or technique I need to use to accomplish this ..
Ask The Experts
How To Restore Missing Internal Layer Connections
Several multilayer backplanes were mistakenly manufactured with missing plating for 24 holes on each board. The top and bottom side pads were in place, but the holes had no plating thus the inner layers were not connected. After consultation it was decided that the best rework approach would involve machining down to the inner layers and connecting copper ribbon to complete the connection on the ...
Feature Story
Cooling Without Electricity
Today, it's estimated that worldwide electricity costs total roughly $2.5 trillion a year and that cooling systems consume 15% of that electricity. With experts forecasting demand for cooling to grow ten-fold by 2050, that means electricity expenditure for cooling alone could rise to nearly $4 trillion per year. Fortunately, there appears to an extremely clever and cost-effective way of doing just ...
Technology Briefing
Contributors
Andy Price, Bob LePage, Ronna LaBranche, Jose Irizarry, Ted Farnham, Bun Chhouy, Peter Vigneau, Jeff Ferry

Since 1983 Circuit Technology Center and CircuitMedic have been recognized as the world's most innovative and reliable specialists in circuit board rework and repair services and products.
Trivia Question
What two-word term is the top speed reached by a free-falling object?


See the answer below.
Quote of the Day
"Success is the ability to go from failure to failure without losing your enthusiasm."
Winston Churchill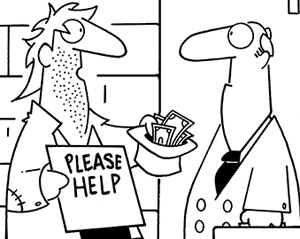 "It works out pretty well taxwise. I write off the whole block as my home office."


Copyright © Randy Glasbergen
Trivia Answer
Terminal velocity.