NEWSLETTER: August 2, 2017
Changing a Conductor Path at a BGA Site
Here's a situation that you may experience someday, if you haven't already. A start-up electronics company discovered that they had a problem. Their contract assembler had just delivered the first 100 boards. Despite a thorough design review and initial prototype, they found that each board needed rework at several BGA sites. The rework involved changing the circuit paths at the BGA sites, which required not only adding new circuits, but also severing the old circuits. The procedure that was developed to handle this problem ...
Feature Story
Rework for OSP Assemblies
Should we modify any rework or repair procedures for circuit board assemblies fabricated using OSP (Organic Solderability Preservative) bare circuit boards ...
Ask the Experts
Rework of High I/O Column Grid Arrays
Off-the-shelf column grid arrays are now being considered for use in a number of NASA systems. This paper presents rework and re-column attachment data ...
Technical Library
Base Board Burn Repair - How and Why
Cosmetic surgery is big business today, but our discussion here is not about facelifts or tummy tucks. We're concerned with the cosmetic touch ups we must often apply to circuit boards. While we're all familiar with reworking components, repairing pads, adding jumper wires, and the like, we have been talking about the practical application of repairing or restoring functional circuitry. What about repairs to the non-functional parts of the board? Are "cosmetic" repairs even necessary? While the ...
Feature Story
The New World of AI-Enabled Work
AI technologies will increase labor productivity by as much as 40%, while doubling annual economic growth rates for most countries by 2035. How is this possible ...
Technology Briefing
Contributors
Andy Price, Bob LePage, Ronna LaBranche, Jose Irizarry, Ted Farnham, Bun Chhouy, Peter Vigneau, Jeff Ferry

For over 33 years Circuit Technology Center and CircuitMedic have been recognized as the world's most innovative and reliable specialists in circuit board rework and repair services and products.
Trivia Question
The garage where William R. Hewlett and David Packard invented an audio oscillator has often been referred to as the official birthplace of what?


See the answer below.
Quote of the Day
"Success is simply a matter of luck. Ask any failure."
Earl Wilson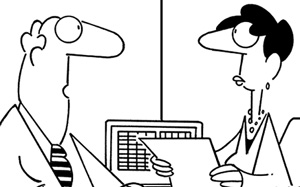 "I wouldn't say my computer skills are outdated. I prefer to think of them as 'classic'."


Copyright © Randy Glasbergen
Trivia Answer
Silicon Valley